At Shadowlake, there are a number of formal and informal group activities to be a part of.   Here's a few we've decided to highlight:
Gardening
Gardening manifests itself in many ways at Shadowlake Village.  Individuals have transformed their yards into micro orchards, wildlife habitats, permaculture projects, and courtyards surrounded by gardens, but the community itself supports gardening in a much larger way.
SLV has an upper and lower garden area where residents can request garden plots.  These areas, each under the care of a garden coordinator, have dedicated water spigots and provide a place for large scale gardening.
There is also a fenced in orchard that residents have the option of joining if they have an interest in fruit trees, bushes, and other horticultural pursuits requiring a larger area.
All of these gardening activities are supported by community composting efforts, community wood chips and leaves that are delivered on site, and a shared love of growing that is prevalent in the community.

Cycling 
Residents at Shadowlake Village seem to all share a love of the outdoors and an understanding of sustainability.  These two elements seem to equate to a love of biking.  Besides the people that choose to commute to work on their bikes because of our close location to downtown Blacksburg, many people choose to bike together regularly.
Blacksburg is striving to become a bike friendly town, and many people enjoy road riding together through the pastoral settings surrounding the town.  There are also bike friendly trails for families who need a "car free" environment to meet their biking needs.  If, however, road riding isn't your thing, there is a large mountain bike culture in Blacksburg and an informal mountain bike group at Shadowlake Village.
Being only 1 mile from the Gateway Trail into National Forest, the same location where a mountain bike skills park is currently under development, there is a large group of individuals at Shadowlake Village who enjoy riding together every week, both locally and in the many trails throughout the region.
Indoor/Outdoor Activities
Residents at Shadowlake Village congregate for a variety of activities that are possible because of the close proximity we share within the intentional community.  There are game nights, both at individual houses and at the common house, where board game competitions are both social and competitive for children and adults alike.
Friday nights are a regular happy hour time when people gather for drinks and food to unwind and enjoy the start of the weekend.
Community dinners are a regular activity at Shadowlake Village.  Every Wednesday is an optional potluck dinner that many households enjoy.  Every Sunday the community also has an optional community dinner where residents sign up to cook for each other, allowing all of us to gather and share both meals and time with each other.
The common house is a place of many activities.  Besides residents having the ability to reserve the space for personal activities and parties, the common house hosts our weekly meals, concerts, community meetings, arts and crafts activities, and community parties.  The common house also houses a game room with pool tables, a dart board, ping pong, air hockey, and is a favorite for entertaining and gathering during the colder months.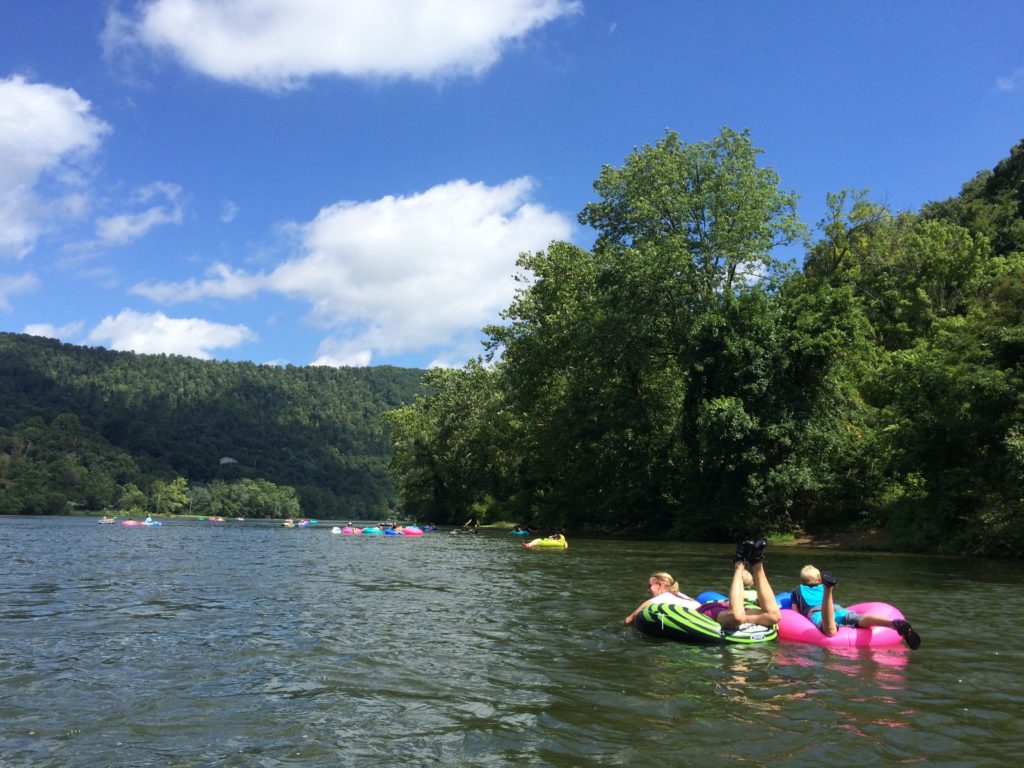 If, however, you are not in the mood for being indoors, we have 17 acres of woods and trails where one can go for a walk or jog.  Our community land is adjacent to Heritage Park (aka Brown Farm), a 150 acre conservation land project that is surrounded by walking trails and benches.  This walk is a favorite of residents who often enjoy the sunsets over Brush Mountain.

Annual events
Residents at SLV have also organized around a variety of annual SLV traditions.  We have a yearly camping trip, retreats, SLV Olympics (see photo above of some of us playing quidditch) and just recently, a triathlon consisting of a bike, a float down the New River, and food at a nearby restaurant.